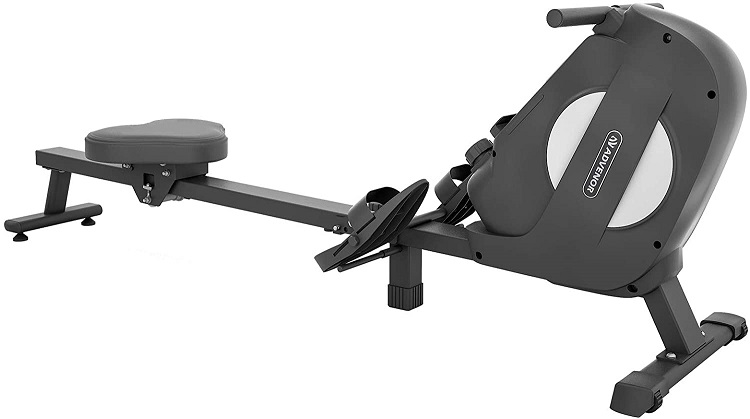 Do you love the feeling of rowing through a challenging workout? If so, then there's no better way to get your sweat on than with a rowing machine and the most favoured type for the home is the magnetic rower.
There are so many brands and types out there but the ADVENOR Rowing Machine reviewed here will give you comfort when using it as well convenience in storing it away for future use!
Whether at home or in the gym – it can handle any level of workout! ADVENOR Rowing Machine has been designed by people just like us who know what we're doing when faced with tough workouts and limited space; with its adjustable resistance levels from 1-8, which means that each user in your home will enjoy their experience regardless if they've never used one before and their levels of fitness.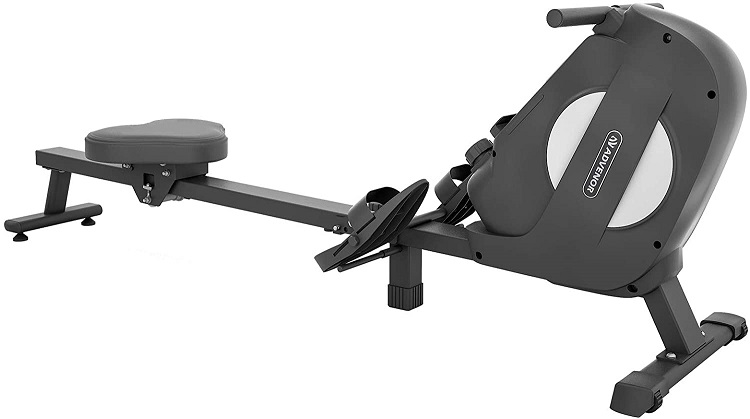 ADVENOR Magnetic Rowing Machine Foldable Rower with LCD Monitor
Pros And Cons ADVENOR Rowing Machine Review
Easy to use
Very quiet operation
The smooth magnetic rowing action
Sturdy Steel Frame
Extra-long supports up to 75″ height rowers
Max User Weight 265lbs
LCD Digital Monitor
Ergonomic design
8 levels of resistance may not suit advanced rowers
If you want a magnetic rowing machine that's not only comfortable and safe, but also offers great resistance levels then we recommend checking out the ADVENOR Rowing Machine reviewed here. Here are the reasons why it should be on your list!
The first reason? The excellent magnetic design allows users to adjust the force they feel while working out which means there will never again be any discomfort caused by "energy wasting" machines like with flywheels or hydraulic pistons.
Secondly if you don't want to worry about the reason air rowers don't work well for many people, because they can generate too much unwanted noise when going through workouts.
Even though this may seem a minor issue at first glance; anything worth mentioning always deserves attention after all right?
If you like working out early in the morning or late at night a noisy rower may become a future issue for you. The ADVENOR Rowing Machine overcomes all these for you and at a price to suit all budgets.
When you take a look at the ADVENOR Rowing Machine, you can expect more comfort during your exercise. With a comfortable cushioned seat, you will not end up with sore buttocks even if you use the magnetic rowing machine for a long time. This can save you from unnecessary pain so you can focus more on your workout exercise. Furthermore, the extra-wide pedals will prevent your feet from slipping. So you won't feel anxious even when you are using the rowing machine vigorously.
Another problem is having a large rowing machine at home is the storage space. Although some people tend to put their rowing machines in really visible places, some owners may want to store it or hide it away when the rowing machine is not being used for the sake of keeping the house looking tidy.
Storing such a large rowing machine can take quite a lot of space, unless if you use the ADVENOR Rowing Machine with LCD Monitor. This is a foldable magnetic rowing machine, so storing it anywhere will not be a problem. This way, you can store it neatly away, somewhere the guests won't be able to see it. This ensures you save more valuable space in your house as well for other uses.
ADVENOR Magnetic Rowing Machine Review Comparisons
Image
Product
Details  
Price
ADVENOR Rowing Machine Magnetic Foldable Rower with LCD Monitor

Sturdy Steel Frame
8 Levels Adjustable Resistance
Extra-long supports up to 75″ height rowers
Max User Weight 265lbs
The smooth magnetic rowing action
LCD Digital Monitor
Ergonomic design

Check Price
ZHCCCJBOY Rowing Machine Hydraulic Rowing Machine

Sturdy Steel Frame
12 Levels Adjustable Resistance
LCD Digital Monitor
Ergonomic design

Check Price
Marcy Foldable 8-Level Magnetic Resistance Rowing Machine with Transport Wheels

All-in-one workout station
8 resistance settings
Multi-angle monitor
Adjustable foot straps
Foldable and easy-to-transport

Check Price
Thanks to the smooth sliding row action, the ADVENOR Magnetic foldable rower with LCD monitor can be used easily and safely for most people.
It also has 8 levels of resistance that can help you to start with the light levels to prevent injury or pain, and then you can step up later with the higher level of resistance once you are ready to step up your exercise challenge.
ADVENOR Magnetic Rowing Machine Dimensions
This feature can also help your other family members or friends who want to use the machine with various levels of strength and resistance.
ADVENOR Rowing Machine Review Ratings
That's why the ADVENOR Rowing Machine reviewed here can be a perfect choice for those who want to exercise at home safely, effectively, and also conveniently.  Check out the user reviews here online and you will see why this is a great choice magnetic rowing machine for your at-home cardio workouts.     
Related Posts & Content:

Fitness Reality 1000 Plus Rower with Bluetooth App Review
CIRCUIT FITNESS Magnetic Rowing Machine Review
ECHANFIT Magnetic Rowing Machine Review
Sunny Health and Fitness Magnetic Rowing Machine Review